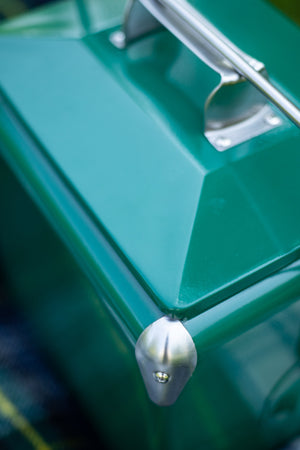 Picnic Items
Green Metal Picnic Cooler
Our family has used many coolers over the years, but by far our favorite (and really the only one we've used for many years now) is this classic, metal cooler. It is simply the best! Its hunter green color will look great for every season of picnicking. And don't let it's smaller size fool you, because I know from many years of experience that it can amply hold picnic food for 4-6 people. The handle and exterior are metal. Its interior is plastic for easy clean-up and rust-free longevity. The handle swings up and securely locks in place on the lid handle. And there's a bottle opener integrated into the side of the cooler. This is the classic picnic piece that your kids will want passed down to them someday.
hunter green metal exterior
11 1/2"W x 12"H x 9 1/4"D
metal handle
bottle opener on outside of cooler
If you're going to start building a collection of picnic pieces that will stand the test of time and be adequate for a number of people, I always recommend that you invest in three quality pieces to start: picnic basket, wool picnic blanket, and sturdy picnic cooler.
---