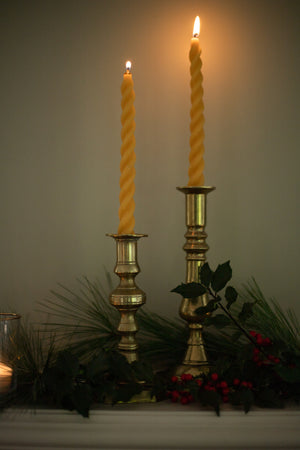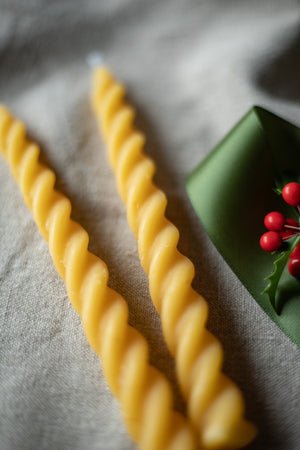 Beeswax Spiral Taper Candles - Set of 2
Beeswax candles cast such a lovely warm glow! They are 100% natural. And the best part about them is the faint, honey scent that wafts from them as they burn. These beautiful, 8 1/2", spiral tapers are hand-poured by an artisan in Maine. They look beautiful on a mantle or for candlelit dinners throughout the cold seasons. Create the coziest memories of home with candlelight!
8 1/2"
sold as a pair (trim wick to 1/4" before burning)
100% natural beeswax
hand-poured in Maine
We burn beeswax tapers almost exclusively in our home. I find their natural, honey color suits every season of the year and every holiday well, so they look good on any table or mantle. A few things I've learned over time are: trim the wick to 1/4" before lighting and do not trim a taper candle's wick again, keep away from vents and fans for a dripless candle, and it is normal for a beeswax candle to develop "bloom"...a very faint white coating on the candle...but this only enhances its beauty.
---