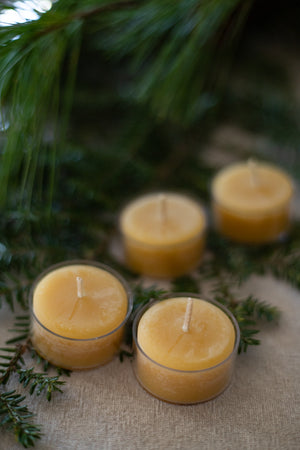 Beeswax Tea Light Candles - Set of 4
Beeswax candles cast such a lovely warm glow! They are 100% natural. And the best part about them is the faint, honey scent that wafts from them as they burn. These handy tea light candles are made in the U.S.A., and look beautiful on a mantle or for candlelit dinners throughout the cold seasons. Sold in a set of four, each candle will burn clean for up to 5 hours. Create the coziest memories of home with candlelight!
set of 4
tea light size
trim wick to 1/4" before burning
100% natural beeswax
handmade in the U.S.A.
Note: candle holders sold separately
We have loved beeswax candles in our home for years! I find their natural, honey color suits every season of the year and every holiday well, so they look good on any table or mantle. A tip: trim the wick to 1/4" before each lighting.
---