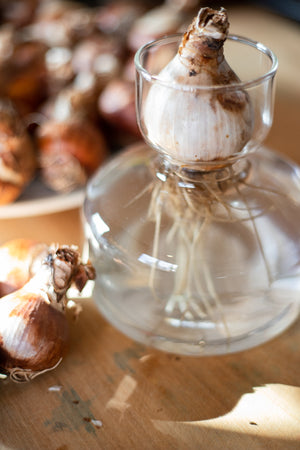 Bulb Forcing Vase
I love the symbolism of the message of life and hope in the Christmas season as it plays out in nature. One way to convey that in your home is by forcing bulbs to bloom.
Children will find this fascinating, as together you watch the growth of the bulb. It's a rare chance for them to observe roots actually growing, so they understand a bit more what happens with them underground. Each day, you can watch the roots grow longer. And then, when the roots are done growing, the bulb will begin to swell and sprout and eventually flower! A great gift for gardeners too!
glass bulb forcing vase
holds one bulb (PLEASE NOTE: bulb not included)
dimensions: 5 1/2"H x 4 1/2"diameter at base
recommended bulbs include: tulip, hyacinth
I love checking the bulbs progress on my own kitchen windowsill. You will find that each morning they seem bigger, as plants photosynthesize during the day and grow at night. Keep the vase filled with just enough water to touch the base of the bulb. Add water with a measuring cup, as needed.
---