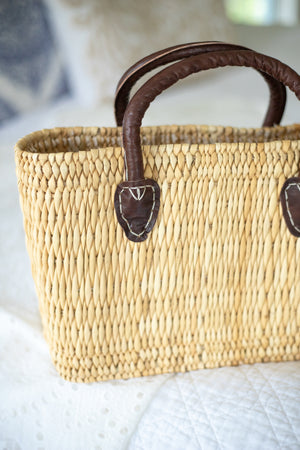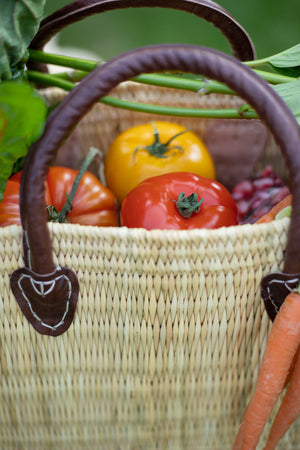 French Market Basket
French market baskets are the sturdiest and most serviceable baskets! Choose your size: small, medium, or large, based on how you plan to use your basket. I have carried one with me for 7-8 years now, and it has become a part of all my New England summer memories. The small basket makes a great purse for all the essentials. I've used the medium basket as my summer purse. But it's also been a beach tote, a farmers' market basket, and a roomy "personal item" when I travel. The large basket will be fabulous as a beach tote, picnic basket, and more. The leather handles are super sturdy, and these baskets can carry a very heavy load. They are your go-everywhere, haul-everything, "look of summer" tote!
one basket
leather handles
handmade in Morocco (a former French colony, hence why they're known as French market baskets)
no two are identical due to their handmade nature
choose your size
dimensions are as follows: SMALL = 14 3/4"L x 5 1/2"W x 9 1/4"H (13 1/2"H with handles); MEDIUM = 17"L x 6 1/4"W x 10 3/8"H (14 1/4"H with handles); LARGE = 18 1/2"L x 6 3/4"W x 12 1/4"H (16"H with handles)
One lovely thing about New England is that you can always count on someone to be carrying a basket. I see shoppers in the local market shopping with a basket. Women carry their knitting in a basket for town meetings...to keep their busy their fingers busy and make good, productive use of their time. People cut flowers and gather tomatoes and berries with baskets. It's a way of life! 

---