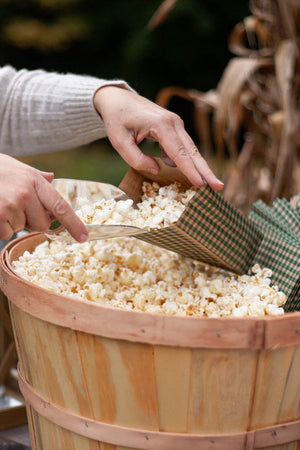 Gingham Popcorn Bags
I've found that having a big basket full of popcorn to greet family and friends at a casual party puts a smile on everyone's face. Kids love it that they can help themselves to an immediate snack. Adults love it, because the kids are instantly happy. And who doesn't love popcorn? These gingham bags hold just the right amount for a snack. They're small enough for kids to easily grasp, yet hold enough popcorn to make adults happy!
sold in bundles of 10
hunter green and natural kraft paper gingham check pattern
8"H x 4 1/4"W x 2 1/4"D
food safe
2 lb. bag
opens flat on the bottom so it can be set on a surface
made in the U.S.A.
Use these versatile bags to hold other treats too...cookies, gifts for neighbors, etc.
---