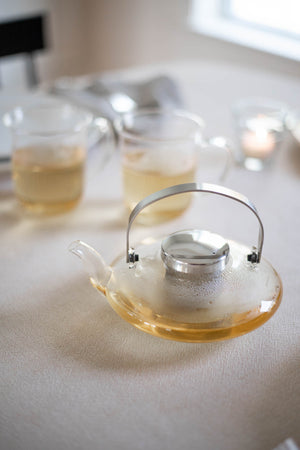 Glass Teapot and Cups Set
Embracing the simplest form of something often feels incredibly luxurious. That's just the feeling this clear glass teapot and cups evoke...pared back, elemental luxury. See the beauty of the tea in the pot and cups. Feel the warmth in the hands. The stainless steel brewing basket holds the tea leaves of your favorite blend. A distinctive and thoughtful gift for a special friend or relative, or a treat for yourself and your own daily tea ritual.
set contains 1 teapot and 2 cups
glass and stainless steel
each item comes boxed
teapot dimensions: 

7.1"L x 7.1"W x 4.7"H

teapot capacity: 18 oz.

cup dimensions: 4.4"L x 3.7"W x 4.3"H

cup capacity: 12 oz.
tea not included
At my favorite spa, there is always hot tea available in glass teapots. Their simple beauty recalls to mind feelings of luxury, comfort, and relaxation. They are a gentle reminder that the simple things in life are best.
---