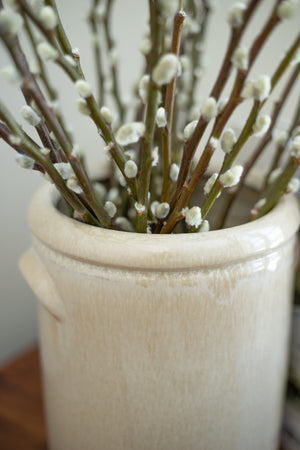 Glossy Flower Crock with Handles
Ticking all the boxes for both practical and pleasing, this glossy, glazed flower crock will complement any decor. Large enough to hold a good quantity of flowers and tall stems, it's a real statement piece. But the chubby, little handles on the sides and the Cotswold stone color were the features that really won my heart with this piece. Very limited quantity.
glazed finish
will hold water
coloring and glazing vary from piece to piece
dimensions: 10 1/2"H x 8" diameter
Every time I come home from the grocery store, I grab a large crock, fill it with water, and plunk the flowers I purchase into it until I have time to arrange them. Often, I love how they look in the crock so much, that they simply get a trim and a bit of styling, and back into the crock they go. I've found that crocks are both beautiful and useful.
---