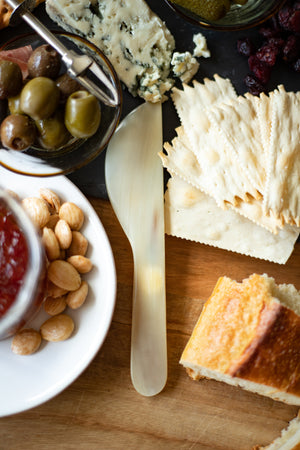 Horn Cheese Knives/Spreaders - Set of 2
Adding a few, distinctive touches to a buffet table or charcuterie board elevates your gathering and makes it feel luxurious and curated. These horn cheese knives/spreaders will do just that. They are the perfect accompaniment to soft cheeses on your cheese board...Brie, Camembert, Boursin, etc. Their smoothly polished texture and natural materials composition make them a lovely luxury item to add to your entertaining essentials.
two knives/spreaders
made from horn
dimensions: 7 1/4"L
please note: due to natural variations, the color of your knives/spreaders may vary from those in the photos; all are equally lovely
care: hand wash
For all of our fall and winter entertaining, I like to include at least one item on the buffet table that is made from horn or from antlers. It adds a distinctive touch to your table and becomes a conversation piece.
---