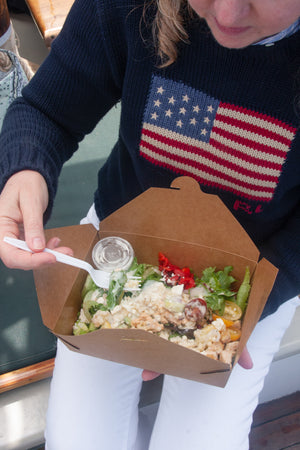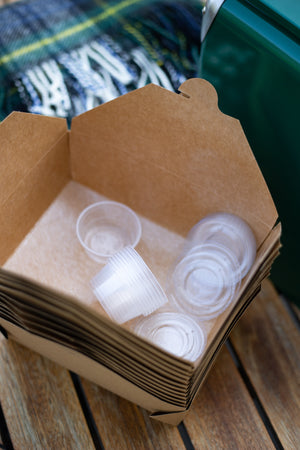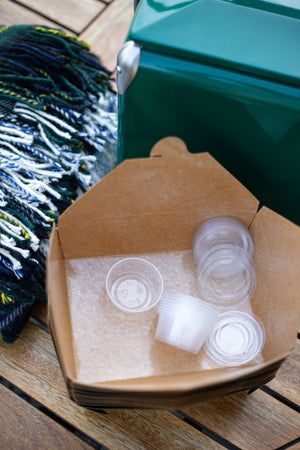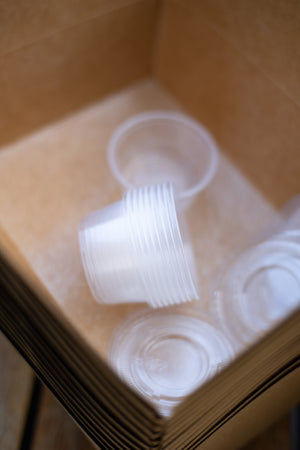 Kraft To-Go Boxes with Dressing Tubs - Set of 16
These handy to-go boxes, with accompanying, lidded dressing tub, are super handy for memorable excursions. When picnicking with multiple serving bowls and plates is not practical, it's better to have everything in easy-to-pack, individual boxes. I found these the most useful way to pack lunches for a sailing excursion...everyone grabbing one and eating where they are seated. Perfect for serving boxed lunches, too. The large, easy-to-assemble box simply pops open and the top flaps lock into place. The small, plastic tubs hold 2 oz. of your favorite salad dressing, sauce, pickles, etc. 
includes 16 boxes and 16 tubs/lids
box is a large, 70 oz. capacity
dressing tub is 2 oz. capacity
box is microwave and freezer safe
box is oil-proof
box has a non-toxic, coated interior
I have been using these for the last seven years. We have used these boxes on two separate, summer occasions on the coast of Maine. Once, I filled them with a ploughman's lunch of: baked chicken breast, cheese, bread, pickles, and pickled onions. And another time, I filled them with my favorite summer salad for a sailing trip. So easy to just pass them out to everyone!
---