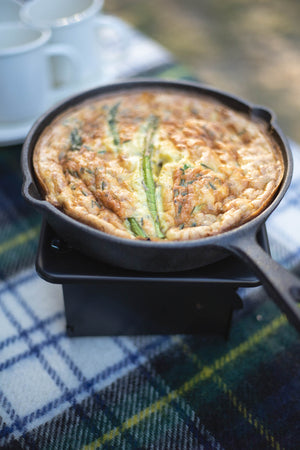 Small Cast Iron Skillet
This small, cast iron skillet is a great way to tote along on a picnic something delicious just pulled from the oven. Included with your purchase are four recipes I've created, perfectly scaled down for this 8" skillet: Spring Morning Frittata, Berry Crumble, Chocolate Chip Skillet Cake, and Smoky Potato Gratin. This skillet pairs well with the Picnic Warming Stove (so you can warm your food up again), and because it fits perfectly under the removable shelf in the Classic Picnic Basket. Its small size makes it a favorite for picnics. Any of the recipes I've included will serve four people generously.
cast iron
skillet is pre-seasoned and ready to use
8" round 
12" long, including handle
oven, grill, and induction safe
hand wash only
Warming Stove and Classic Picnic Basket sold separately
My husband thinks that warm food on a picnic is just the best! It does give a cozy feel to the whole meal, especially if it's a little chilly on your picnic day.
---