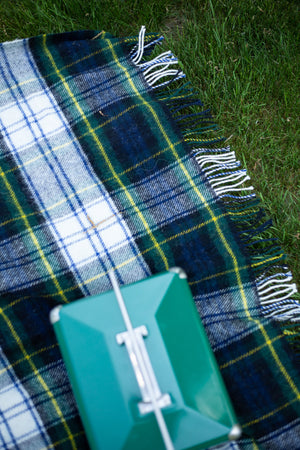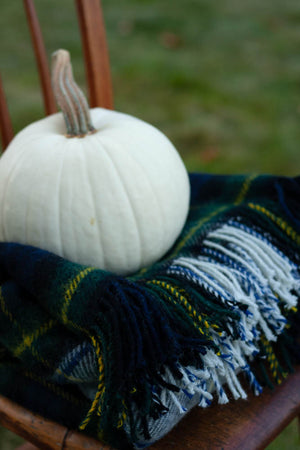 Tartan Wool Picnic Blanket
A quality picnic blanket, like a picnic basket, is an investment that will last a lifetime. This gorgeous, Shetland wool, tartan picnic blanket was woven in a 180-year old mill in the Yorkshire Dales area of northern England. I really love the timelessness of its pattern, colors, and design. It is roomy enough for several people to sit on it for a picnic. We love wool blankets for picnicking, because wool is naturally water-resistant, so a little dampness does not seep through. I just couldn't be more pleased to offer you a quality and classic blanket like this one! It would be just stunning as an accent piece in your home, as well. Makes a beautiful gift.
100% Shetland wool
Made in ENGLAND
approximate size, including fringe, is 55" x 72"
Our family stayed in a farmhouse in the Yorkshire Dales for several days in the spring of  2017. There were very few buildings near us, as the home where we stayed was surrounded by fields and fields full of bleating sheep. One of my fondest memories is of crossing through the sheep fields to get to the local pub for dinner, and watching all the newborn lambs and their sweet mamas. Truly thrilled to offer you a picnic blanket that comes from that very area.
---