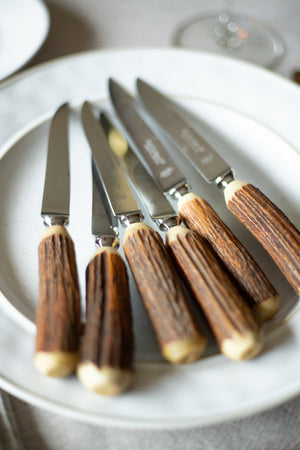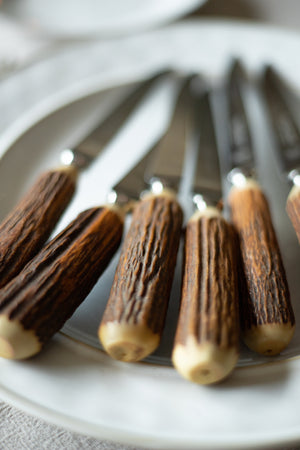 Vintage Antler-Handled Steak Knives - Set of 6
Add a touch of distinction to your dinner table with antler-handled knives. This set of six, vintage steak knives features serrated, stainless steel blades and antler handles. They are made by the Sheffield company in England. The set is in mint condition. They add a rustic-elegant touch to your table.
set of six knives
stainless steel blades
antler handles
vintage
condition: excellent
made in England by Sheffield
dimensions: 8"L
I love using antler-handled knives for all sorts of entertaining: picnics, family dinners, Thanksgiving, Burns' Night, and more! They add a sort of European flair to a tablescape.
I love wandering the scenic back roads of New England and searching for treasures at antique shops along the way. All vintage/antique offerings in Wonderful Life Farm are high quality, and have to meet my standards for antiques...beautiful AND usable. Each piece comes with a little tag attached telling you a bit about the piece and how I came to find it, because every piece has a story.
---