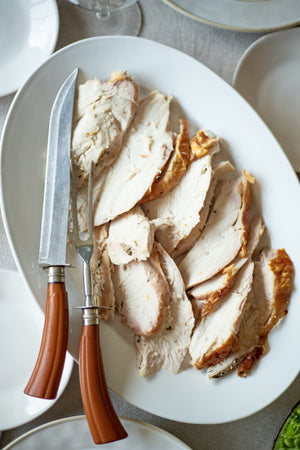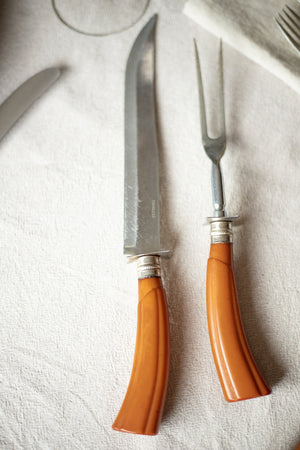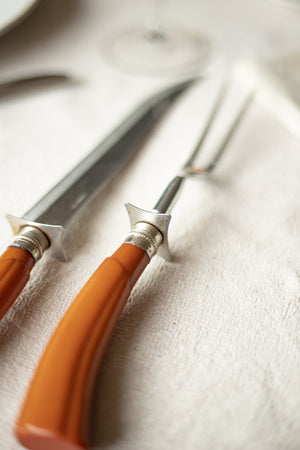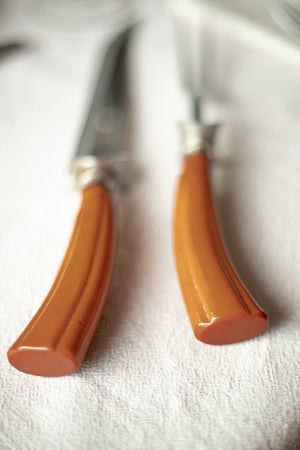 Vintage Brown Bakelite Carving Set - Knife and Fork
A good carving set is a must for every Thanksgiving holiday. The memory of the turkey being sliced and the aroma escaping. Mmm. This 2-piece, vintage, Bakelite carving set will look great on the Thanksgiving table. The dark butterscotch-colored handles add a vintage touch, yet modern distinction to the Thanksgiving table. The tines and blade are stainless steel. The fork has a propping mechanism to keep the greasy tines of the fork from touching your Thanksgiving tablecloth.  A classic set to add to your Thanksgiving essentials.
two-piece set: fork and knife
Bakelite handles
stainless tines and blade
vintage: excellent condition
dimensions are as follows: Fork is 10 3/4"L. Knife is 13"L.
hand wash
I love wandering the scenic back roads of New England and searching for treasures at antique shops along the way. All vintage/antique offerings in Wonderful Life Farm are high quality, and have to meet my standards for antiques...beautiful AND usable. Each piece comes with a little tag attached telling you a bit about the piece and how I came to find it, because every piece has a story. 
---